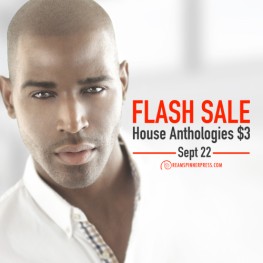 Thursday September 22, 2016
23 house anthologies are $3 each in this 24-hour flash sale.
WHERE?
Dreamspinner Press
WHEN?
September 22, 2016 - 12:00 AM Eastern To September 22, 2016 - 11:59 PM Eastern
Harmony Ink Press - Young Author Challenge
A Harmony Ink Press Title
Celebrate with Harmony Ink Press as we recognize the talented winners of our second annual Young Author Challenge. This anthology showcases the LGBTQ genre's best up-and-coming-authors between the ages of fourteen and twenty-one.
The road from childhood to adulthood can be a bumpy one, especially for LGBTQ youth. Travel beside characters of all identities, orientations, and expressions as they search for a place to belong and people to love and support them just the way they are. From cities to the countryside, across diverse nations, and in fantastical realms of imagination, these young people struggle against society's expectations, judgment from friends and family, and their own confusion—all while trying to enjoy their teenage years. Join them as they find the strength to be the people they're meant to be and the courage to show their beauty to the world.
Angelicque Bautista—Hummingbird Heart
Alice Blank—I Wouldn't Let You Drown
Erica Engelin—My Friend, My Sister
Melissa Dollison—Home Before the Moon Turns
Shaye Evans—Boarding Discovery
Danielle Eyer—The Love Song of Amalia Savage
Jordan Gillespie—Love in the Time of Figure Skating
Juli Philippo—Ceilings
Zig—The Three Poly Teens
Hannah Irene—Black Rose
CJ—The Pirate and the Princess
Sheila McIntosh—Leucippa
Gabriella Reeb—Just a Little Bit Late
S. A. Star—Chance Encounters
Sara Stark—Stardust
Laura Swogger—This Photograph
Imani J. Walton—Three Stages of Agony
Lights, camera, action!
To the average person, celebrities seem to have it all—money, fame, and droves of adoring fans lining up to fawn over them. But a life in the public eye can make romance challenging, and deep down, these guys are looking for the same thing as any other man: someone to share a steamy tryst with between acts or to ride off into the sunset with after the curtain has gone down. Luckily there are those willing to love the men behind the billboards and on-air personalities, and they're looking for a private performance from their favorite drag queens, musicians, reality TV stars, actors, rodeo champions, and video game designers. Even superheroes and legendary defenders. Money and fame might not always equal happiness, but these celebrities will leave stars in their lovers' eyes.
Love, Stage Left—L.A. Merrill
Rodeo Champion—Jay Starre
Marked by the Queen—George Loveland
The Ruby—Avery Vanderlyle
Pride and Panoramas—Asta Idonea
Such Beautiful Music—M.T. Aspen
Out on Stage—Elizabeth Coldwell
Shooting Star—Rob Rosen
Drastic Measures—Sydney Blackburn
Garden Variety—Bell Ellis
Defying Gravity (A Spandex and Superpowers Story) —Charles Payseur
The Defender of Ruldan—Jessica Payseur
See excerpt for individual blurbs.
Harmony Ink Press - Young Author Challenge
A Harmony Ink Press Title
Harmony Ink Press is delighted and honored to showcase the short fiction of some of the best up-and-coming authors working in the LGBT genre. The stories in this third volume of Harmonious Hearts represent the winners of our Young Author Challenge—a group of talented writers between the ages of fourteen and twenty-one.
The stories in this anthology are as diverse as their creators and range from the speculative to snapshots of everyday life for people growing up in a society in flux. They confront many issues facing young adults, and they celebrate the joys of this sometimes rocky period of transition: friendship, loyalty, first love, and learning to feel comfortable in one's own skin. These experiences are universal, and thanks to the courage and talent of authors such as these, young people of all gender identiyies, expressions, and orientations are starting to see themselves included. Everyone deserves a story that speaks to them, and in these pages, they'll find that story.
Dani Anderson—To Lauren
Nick Anthony—Scrapyard Sunsets
Hilda Friday—A Progression of Love
Arbour Ames—You Saw Blue
Chloe Smith—Plenty of Fish
Caleb Andrews—I Am Logan
Sarah Caulfield—Make Mad the Guilty
Xoe Juliani—Loving You Through the Years
Irene Grant—Jordan and AJ
Latitude Brown—Equinox
Julia Dupuis—Let No Sin Rule Over Me
Anika Olivo—Melodimensional
Frisk Gillespie—Ten Words
See excerpt for individual blurbs.