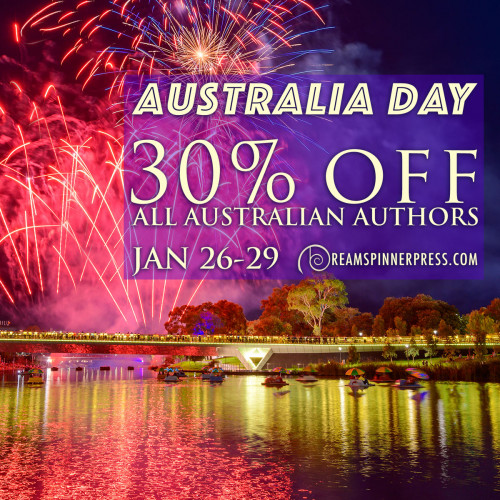 Friday January 26, 2018
Get 30% off all Australian and New Zealand authors' titles!
WHERE?
Dreamspinner Press
WHEN?
January 26, 2018 - 12:00 AM Eastern To January 29, 2018 - 11:59 PM Eastern
Brent Winton is doing all the wrong things for all the right reasons. Since the death of their parents years ago, Brent is helping his younger brother Zach through law school in sunny Queensland, Australia. The boys share a cheap flat, and Brent works two jobs to support them, but Zach thinks the second job is merely bar tending. In reality Brent has turned to gay prostitution to ensure that Zach has all the best textbooks and the up-to-date laptop he needs so he can focus on his studies. When hot Russian refugee Dimitri moves in next door, Brent finds him mesmerizing, but fears that if he gets involved, Dimitri will expose Brent's white lies. But Dimitri has a dark secret of his own, and the question becomes how either of them can learn to trust the other without blowing their cover.
For the last ten years, James Mitchell has conned numerous groups by impersonating a religious guide. No longer able to take the guilt of scamming people, he decides to call it quits. A trip might be the best way to heal his bruised soul, and New Zealand looks like the perfect place.
Under one of the oldest trees in New Zealand, James meets Tāne Kokiri, a woodworker traveling the length of the country to scatter the ashes of his recently deceased mother. After several accidental meetings, they decide to road trip together. Among the mountains of the West Coast and the plains around Ruapehu, they begin to connect on a level neither of them expected, and discover they may have found what they need to move forward in each other.
A Harmony Ink Press Title
Life in a small mining town can be like living in a fishbowl, where everyone knows everybody else's business. Fifteen-year-old Jodi's mother wants her father to quit his binge drinking and his dangerous job at the mine—even more so after a collapse leaves two miners dead and three trapped deep underground.
As tensions escalate both at home and around the town, Jodi seeks comfort with her friends but soon faces a double betrayal. Meanwhile, her ten-year-old brother Jake reacts by joining a gang of schoolyard bullies who engage in increasingly dangerous antics.
As Jodi struggles to gain autonomy over her life, she begins to discover the person she really is. But with everything around her spiraling out of control, it may not be the right time to let her family, friends, and ultimately the whole town know—no matter how much she wants to.
A Harmony Ink Press Title
Get Out: Book One
Micah Johnson is out of options.
Following a stint as a runaway after the cruel revelation of his sexual orientation, Micah vows to get his life back on the right track. But there are roadblocks between him and his goal of making the national draft and having a shot at becoming an AFL player, including struggles with other students both on and off the football field. Hiding behind sarcasm will only protect him from so much, and Micah knows just making it to graduation will be an epic battle. If only Micah could find a fraction of the faith that his mentor, Declan Tyler, has in him, but he can't seem to see what Declan does.
Micah is trying to reform, but the end of the road is a long way off, and it's clear the process is ongoing.
Lang Downs: Book One
Caine Neiheisel is stuck in a dead-end job at the end of a dead-end relationship when the chance of a lifetime falls in his lap. His mother inherits her uncle's sheep station in New South Wales, Australia, and Caine sees it as the opportunity to start over, out on the range where his stutter won't hold him back and his willingness to work will surely make up for his lack of knowledge.
Unfortunately, Macklin Armstrong, the foreman of Lang Downs who should be Caine's biggest ally, alternates between being cool and downright dismissive, and the other hands are more amused by Caine's American accent than they are moved by his plight… until they find out he's gay and their amusement turns to scorn. It will take all of Caine's determination—and an act of cruel sabotage by a hostile neighbor—to bring the men of Lang Downs together and give Caine and Macklin a chance at love.
Aaron's been living in what his friend Howie calls a sexual desert. But an oasis appears on the horizon when Paul, a divorced electrician with a five-year-old daughter named Sam, moves in next door. He's a country boy from northern Australia, and although he's never been with a guy before, he has an impression that anything goes in the city. They find that the ordinary things in life—books, footie in the park, looking after Sam—lead them into an unlikely relationship.
But as their relationship slowly deepens, with Aaron spending time on Paul's family's cattle station, it becomes clear that Paul might have a harder time leaving the country behind. To him, happiness means a conventional life—including a mother for Sam. Being with his old friends convinces him he's on the wrong path with Aaron, and he starts a relationship with a girl from his hometown. If he cannot find the courage to go after what he truly needs, he and Aaron will become nothing more than awkward neighbours.
World of Love | New Zealand
Kiwi Nathaniel Dunn is in a fighting mood, but how does a man fight Wellington's famous fog? In the last year, Nate's lost his longtime lover to boredom and his ten-year job to the economy. Now he's found a golden opportunity for employment where he can even use his artistic talent, but to get the job, he has to get to Christchurch today. Heavy fog means no flight, and the ticket agent is ignoring him to fawn over a beautiful but annoying, overly polite American man.
Rusty Beaumont can deal with a canceled flight, but the pushy Kiwi at the ticket counter is making it difficult for him to stay cool. The guy rubs him all the wrong ways despite his sexy working-man look, which Rusty notices even though he's not looking for a man to replace the fiancé who died two years ago. Yet when they're forced to share a table at the crowded airport café, Nate reveals the kind heart behind his grumpy façade. An earthquake, sex in the bush, and visits from Nate's belligerent ex turn a day of sightseeing into a slippery slope that just might land them in love.
World of Love: Stories of romance that span every corner of the globe.
A City to City Novel
James Morgan: outlaw in a ruthless biker club, the Bastard Legion. Willing to do whatever he must to claw his way to the top of the club's hierarchy.
Two things stand in the way of his ambitions: his heroin-addicted brother and his bisexuality. In Morgan's world, his attraction to men is a death sentence, and he has no desire to pursue it… until he tangles with Luc Sinclair.
Luc Sinclair: fellow Bastard Legion biker. Tattoo artist. Rebel who wants out of a club he's grown to despise.
Luc has a sister he's protecting from a Legion ex-boyfriend. Saving her makes him a target. Morgan intervenes, and all bets are off. The sex is as fierce and passionate as it is dangerous. But when Morgan's junkie brother learns of the relationship, he sees a way to advance in the Legion and take out a brother he hates. Their three worlds collide—one is left for dead, another fighting for life, and the bond between them broken.
In a dark and violent world where it's every man for himself, finding their way back to each other and the only truth they've ever found will be a long, hard fight.
The most important things in Simon Murray's life are football, friends, and film—in that order. His friends despair of him ever meeting someone, but despite his loneliness, Simon is cautious about looking for more. Then his best friends drag him to a party, where he barges into a football conversation and ends up defending the honour of star forward Declan Tyler—unaware that the athlete is present. In that first awkward meeting, neither man has any idea they will change each other's lives forever.
Like his entire family, Simon revels in living in Melbourne, the home of Australian Rules football and mecca for serious fans. There, players are treated like gods—until they do something to fall out of public favour. This year, the public is taking Declan to task for suffering injuries outside his control, so Simon's support is a bright spot.
But as Simon and Declan fumble toward a relationship, keeping Declan's homosexuality a secret from well-meaning friends and an increasingly suspicious media becomes difficult. Nothing can stay hidden forever. Soon Declan will have to choose between the career he loves and the man he wants, and Simon has never been known to make things easy—for himself or for others.
Second Edition
First Edition published by Dreamspinner Press, 2009.