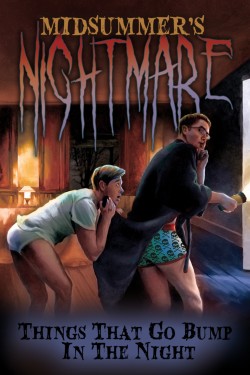 A story a day for the month of June
Lay down and close your eyes to dream this night.
A wolf is howling at the full gold moon;
the blood in your veins will begin to pound.
A nightmare will o'ertake you very soon--
vampires, werewolves, the ghosts that haunt the eaves
rise up to rent what joy they hunt and find.
But with the pulse, wild passion is aroused.
These handsome men will tease and flaunt and grind
against the things that go bump in the night.
At dawn the sun will rise and evil flees;
it leaves the well-known truth bare to the light:
night is shortest, hottest, in the summer,
and love will banish night's consuming fright.
The Midsummer's Nightmare package presents 30 M/M stories of supernatural romance that may feature an edge of suspense and heart-pounding fear; a taste of the paranormal worlds of ghosts, vampires, and werewolves; and even the stuff of nightmares and dreamscapes. Stories range from 3,500 to 18,000 words.