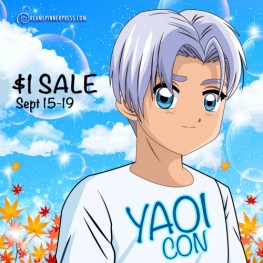 Thursday September 15, 2016
12 eBooks by authors attending Yaoi Con are $1 each!
WHERE?
Dreamspinner Press
WHEN?
September 15, 2016 - 12:00 AM Eastern To September 19, 2016 - 11:59 PM Eastern
Half Moon bay: Book One
Deacon Reid was born bad to the bone with no intention of changing. A lifetime of law-bending and living on the edge suits him just fine—until his baby sister dies and he finds himself raising her little girl.
Staring down a family history of bad decisions and reaped consequences, Deacon cashes in everything he owns, purchases an auto shop in Half Moon Bay, and takes his niece, Zig, far away from the drug dens and murderous streets they grew up on. Zig deserves a better life than what he had, and Deacon is determined to give it to her.
Lang Harris is stunned when Zig, a little girl in combat boots and a purple tutu, blows into his bookstore, and then he's left speechless when her uncle, Deacon Reid, walks in hot on her heels. Lang always played it safe, but Deacon tempts him to step over the line… just a little bit.
More than a little bit. And Lang is willing to be tempted.
Unfortunately, Zig isn't the only bit of chaos dropped into Half Moon Bay. Violence and death strike, leaving Deacon scrambling to fight off a killer before he loses not only Zig but Lang too.
Sinners Series | Book Five
Sequel to Sloe Ride
Sinners Series: Book Five
We're getting the band back together.
Those six words send a chill down Miki St. John's spine, especially when they're spoken with a nearly religious fervor by his brother-in-all-but-blood, Damien Mitchell. However, those words were nothing compared to what Damien says next.
And we're going on tour.
When Crossroads Gin hits the road, Damien hopes it will draw them closer together. There's something magical about being on tour, especially when traveling in a van with no roadies, managers, or lovers to act as a buffer. The band is already close, but Damien knows they can be more—brothers of sorts, bound not only by familial ties but by their intense love for music.
As they travel from gig to gig, the band is haunted by past mistakes and personal demons, but they forge on. For Miki, Damie, Forest, and Rafe, the stage is where they all truly come alive, and the music they play is as important to them as the air they breathe.
But those demons and troubles won't leave them alone, and with every mile under their belts, the band faces its greatest challenge—overcoming their deepest flaws and not killing one another along the way.
Hellsinger: Book One
When his Uncle Mortimer died and left him Hoxne Grange, the family's Gilded Age mansion, Tristan Pryce became the second generation of Pryces to serve as a caretaker for the estate, a way station for spirits on their final steps to the afterlife. Tristan is prepared for challenges, though not necessarily from the ghosts he's seen since childhood. Determined to establish Tristan's insanity and gain access to his trust fund, his loving relatives hire Dr. Wolf Kincaid and his paranormal researchers, Hellsinger Investigations, to prove the Grange is not haunted.
Skeptic Wolf Kincaid has made it his life's work to debunk the supernatural. After years of cons and fakes, he can't wait to reveal the Grange's ghostly activity is just badly leveled floorboards and a drafty old house. More than a few surprises await him at the Grange, including its prickly, reclusive owner. Tristan Pryce is much less insane and much more attractive than Wolf wants to admit, and when his team releases a ghostly serial killer on the Grange, Wolf is torn between his skepticism and protecting the man he's been sent to discredit.
Murder and Mayhem | Book One
2015 Award Winners
Murder and Mayhem: Book One
Dead women tell no tales.
Former cat burglar Rook Stevens stole many a priceless thing in the past, but he's never been accused of taking a life—until now. It was one thing to find a former associate inside Potter's Field, his pop culture memorabilia shop, but quite another to stumble across her dead body.
Detective Dante Montoya thought he'd never see Rook Stevens again—not after his former partner falsified evidence to entrap the jewelry thief and Stevens walked off scot-free. So when he tackled a fleeing murder suspect, Dante was shocked to discover the blood-covered man was none other than the thief he'd fought to put in prison and who still makes his blood sing.
Rook is determined to shake loose the murder charge against him, even if it means putting distance between him and the rugged Cuban-Mexican detective who brought him down. If one dead con artist wasn't bad enough, others soon follow, and as the bodies pile up around Rook's feet, he's forced to reach out to the last man he'd expect to believe in his innocence—and the only man who's ever gotten under Rook's skin.
Creature Feature | Volume One
Diagnosis: Wolf by Poppy Dennison
Thanks to his good-for-nothing brother, Andrew Hughes is up to his eyeballs in debt and needs a job fast. When a nursing position opens up in Myerson, Arizona, Andrew has no choice but to take it, despite a warning about how difficult a patient Caleb DiMartino can be. Andrew can deal with a little trouble—but Caleb's strange family, the armed guards, and the unknown cause of Caleb's mysterious illness may be beyond his skill set.
Landslide by Mary Calmes
For three years, paranormal courier Frank Corrigan has been working for incubus demon Cael Berith. Cael knows Frank is his mate, but Frank is pretty sure Cael doesn't even like him, never mind want to spend the rest of his life with him, so their personal relationship is at an impasse. When Frank's sister, Lindsey, gets bitten by a werewolf she's sleeping with—and possibly witnesses a murder—Frank rides to her rescue. If he's lucky, he might just save his love life too.
Carter Evans is founder and editor-in-chief of Astounding!—a formerly popular spec fiction magazine currently in its death throes. Not only can he do nothing to save it, but stuck in a rathole apartment with few interpersonal connections, he can't seem to do much to rescue his future either. And certainly all the booze isn't helping. He snaps when he receives yet another terrible story submission from the mysterious writer J. Harper—and in a drunken haze, Carter sends Harper a rejection letter he soon regrets.
J. Harper turns out to be John Harper, a sweet man who resembles a '50s movie star and claims to be an extraterrestrial. Despite John's delusions, Carter's apology quickly turns into something more as the two lonely men find a powerful connection. Inexplicably drawn to John, Carter invites him along on a road trip. But as they travel, Carter is in for some big surprises, some major heartbreak… and just maybe the promise of a good future after all.
Mermen of Ea Trilogy | Book One
2013 Award Winners
Mermen of Ea Trilogy: Book One
Taren Laxley has never known anything but life as a slave. When a lusty pirate kidnaps him and holds him prisoner on his ship, Taren embraces the chance to realize his dream of a seagoing life. Not only does the pirate captain offer him freedom in exchange for three years of labor and sexual servitude, but the pleasures Taren finds when he joins the captain and first mate in bed far surpass his greatest fantasies.
Then, during a storm, Taren dives overboard to save another sailor and is lost at sea. He's rescued by Ian Dunaidh, the enigmatic and seemingly ageless captain of a rival ship, the Phantom, and Taren feels an overwhelming attraction to Ian that Ian appears to share. Soon Taren learns a secret that will change his life forever: Ian and his people are Ea, shape-shifting merfolk… and Taren is one of them too. Bound to each other by a fierce passion neither can explain or deny, Taren and Ian are soon embroiled in a war and forced to fight for a future—not only for themselves but for all their kind.
2014 Advent Calendar | Celebrate!
Akiyoshi 'Aero' Kurokuma, author of the wildly popular manga, Ecos, lost his assistant when his best friend retired. After Aero collapses from exhaustion four years later, he is forced to run a contest for an assistant. Placing impossible rules on the contest, Aero is sure no one can win. But a winner emerges: a young man from America, Daniel Beck. The first time he lays eyes on Daniel, Aero realizes he'll have a hard time hiding his attraction. Daniel is a perfect assistant, but it doesn't help Aero see past the twenty-year age difference between them. It will take all of Daniel's charm and the prayers offered at the shrine to make Aero take a chance on the romance they both want.
A story from the Dreamspinner Press 2014 Advent Calendar package "Celebrate!".
2014 Award Winners
THIRDS | Book One
THIRDS: Book One
When homicide detective Dexter J. Daley's testimony helps send his partner away for murder, the consequences—and the media frenzy—aren't far behind. He soon finds himself sans boyfriend, sans friends, and, after an unpleasant encounter in a parking garage after the trial, he's lucky he doesn't find himself sans teeth. Dex fears he'll get transferred from the Human Police Force's Sixth Precinct, or worse, get dismissed. Instead, his adoptive father—a sergeant at the Therian-Human Intelligence Recon Defense Squadron otherwise known as the THIRDS—pulls a few strings, and Dex gets recruited as a Defense Agent.
Dex is determined to get his life back on track and eager to get started in his new job. But his first meeting with Team Leader Sloane Brodie, who also happens to be his new jaguar Therian partner, turns disastrous. When the team is called to investigate the murders of three HumaniTherian activists, it soon becomes clear to Dex that getting his partner and the rest of the tightknit team to accept him will be a lot harder than catching the killer—and every bit as dangerous.
Blood: Book One
Vampire hunter Adrien Gilbert never dreamed he'd fall for his prey or that his love, Nicolas Lambert, would give him the gift of immortality. But when a hunter bent on destroying the truce between vampires and hunters throws the gauntlet at Adrien's feet, Adrien must travel through time to save Nicolas, and with him, the entire vampire race.
Born in the 1800s into a clan of vampire hunters, Adrien once wanted only to tend his family's vineyard or read a good book. Then his older brother is murdered. Bound by his hunter's oath, Adrien sets out on a path that will change his life when he agrees to execute his brother's killer, the vampire Charles Duvalier.
After months chasing Charles, Adrien reluctantly makes a bargain with ancient vampire Nicolas Lambert. Adrien will escort Nicolas to Paris for his marriage to a rival clanswoman, and Nicolas will help Adrien find Charles. Nicolas's quiet strength and gentle heart soon convince Adrien that Nicolas is nothing like the vampires he has sworn to destroy. But as the wedding draws nearer, a sinister figure threatens the already fragile peace. To secure both past and future for those he loves, Adrien must find a way to stop the looming war. But first he'll have to let Nicolas go.
2012 Advent Calendar | Evergreen
North Pole City Tales | Book One
All is not sparkly snowflakes and sweet candy canes in North Pole City. Office workers Tim and Noel do nothing all day but antagonize each other—petty fighting that might be based on hatred… or a heated mutual attraction. It's up to Jack Frost and his elf-friend Rudy to broach the hostilities and introduce some Christmas kisses, but is the Frost Prince up to the challenge of launching a new romance when someone's trying to break his holiday spirit?