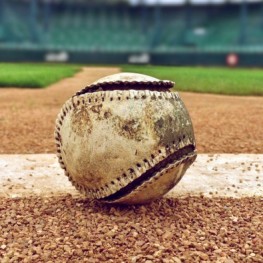 Tuesday October 25, 2016
To celebrate baseball's largest stage, baseball titles are 30% off through the duration of the champsionship series.
WHERE?
Dreamspinner Press
WHEN?
October 25, 2016 - 12:00 AM Eastern To November 03, 2016 - 11:59 PM Eastern
The Rainbow League | Book Two
The Rainbow League: Book Two
Mason made headlines when, after his professional baseball career was sidelined by an injury, he very publicly came out of the closet. Now he's scratching the baseball itch playing in the Rainbow League while making his way through New York's population of beefcakes, even though they all come up short. Plus, he's still thinking about last summer's encounter with hot, effeminate, pierced and tattooed Patrick—pretty much the opposite of the sort of man he has long pictured himself with.
Patrick hasn't been able to forget Mason either, and now that baseball season is back upon them, he's determined to have him again. Mason is unlike any man Patrick has ever been with before, and not just because he's an ex-Yankee. All Patrick has to do is convince a reluctant Mason that their one night wasn't just a crazy fluke and that they could be great together… if only Mason could get past his old hang-ups and his intolerant family.
2015 Award Winners
The Austin Trilogy | Book Three
The Austin Trilogy: Book Three
It's the summer of 1983, and Trent Days is Major League Baseball's rookie sensation. Born in Alaska to an Inupiat mother, the press have dubbed him the Eskimo Slugger, but a midseason collision at home plate temporarily halts his meteoric rise to the top.
Sent back to Austin to recuperate, Trent visits his favorite record store, Inner Sanctum, where he meets amiable law student Brendan Baxter. A skip in the vinyl of New Order's "Blue Monday" drives Trent back to Brendan, and their romance takes them into uncharted territory.
As Trent's feelings move from casual to serious, he's faced with an impossible dilemma. Does he abandon any hope of a future with Brendan and return to the shadows and secrets of professional sports? Or does he embrace the possibility of real love and leave baseball behind him forever? As he struggles with his decision, Trent embarks on a journey of self-discovery—to figure out who he really is and what matters most.
Matt Blanco is a legend on the Brooklyn Eagles, but time and injuries have taken their toll. With his career nearing its end, he's almost made it to retirement without anyone learning his biggest secret: he's gay in a profession not particularly known for its tolerance.
Iggy Rodriquez is the hot new rookie in town, landing a position in the starting lineup of the team of his dreams and playing alongside his idol, Matt Blanco. Iggy doesn't think it can get any better, until an unexpected encounter in the locker room with Matt proves him wrong.
A relationship—and everything it could reveal—has never been in the cards for Matt, but Iggy has him rethinking his priorities. They fall hard for each other, struggling to make it through trades, endorsement deals, and the threat of retirement. Ultimately they will be faced with a choice: love or baseball?
2nd Edition
First Edition published by Loose Id LLC, 2012.
The Rainbow League | Book One
The Rainbow League: Book One
Ian ran screaming from New York City upon graduating from high school. A job offer too good to turn down has brought him back, but he plans to leave as soon as the job is up. In the meantime he lets an old friend talk him into joining the Rainbow League, New York's LGBT amateur baseball league. Baseball turns out to be a great outlet for his anxiety, and not only because sexy teammate Ty has caught his eye.
Ty is like a duck on a pond—calm and laid-back on the surface, a churning mess underneath. In Ian, he's found someone with whom he feels comfortable enough to share some of what's going on beneath the surface. The only catch is that Ian is dead set on leaving the city as soon as he can. Ty works up a plan to convince Ian that New York is, in fact, the greatest city in the world. But when Ian receives an offer for a job overseas, Ty needs a new plan: convince Ian that home is where Ty is.
Former professional baseball player Justin Piersol needs a new life after a career-ending injury, and his job as a high school baseball coach isn't exactly fulfilling. Still, things are looking up: he finds the perfect room in an apartment in Brooklyn with Mark, who writes a popular column on sports statistics.
Mark is nerdy and socially awkward and intensely shy, and he immediately develops a terrible crush on Justin, who barely seems to notice him. As they get to know each other, Justin admits he misses playing baseball, that coaching doesn't scratch the itch. Mark confesses he thought he'd be married by now, that he wants a serious relationship. So they make a pact: Justin will help Mark find a man, and Mark will help Justin find something he loves more than baseball.
They put their plan into action… and then life gets complicated. Mark meets a nice guy named Dave, and Justin is suddenly crazy with jealousy. Justin realizes he wants to let go of the past and focus on the present, but as Mark and Dave become an item, Justin fears he's too late.
2013 Award Winners
The JOCK Series |
The JOCK Series: Book One
It's easy to become cynical when life never goes your way.
Cole Reid has been a social recluse since he was fifteen, when he was outed by his high school baseball team. Since then, his obsessive-compulsive behavior and sarcastic nature have driven away most of the population, and everyone else hates him because he's gay. As he sees it, he's bound to repulse any prospective friends, let alone boyfriends, so why bother?
By the time Cole enters college, he's become an uptight loner—but it's not a problem until his roommate graduates and the housing department assigns Ellis Montgomery to move in with Cole. Ellis is messy, gorgeous, straight, and worst of all, a jock!
During a school year filled with frat buddies, camping expeditions, and meddling parents, Cole and Ellis develop a friendship that turns Cole's glass-half-empty outlook on its head. There must be more to Ellis than a fun-loving jock—and maybe Cole's reawakening libido has rekindled his hope for more than camaraderie.
Sometimes love can come out of left field.
Tony was waiting until he went away to college to come out to his parents and start his new gay life. Unfortunately, at twenty-four, it doesn't look like college is going to happen after all. Stuck in a dead-end job in a small town and still living at home, with all the arrested development that entails, he finds escape in playing for the company baseball team and lusting after his straight outfielder crush, Alex. But Tony's best friend, Jennifer, thinks she's found a plan in the pages of gay romance novels. All Tony has to do is convince Alex he's gay for you… or for Tony. It's easy—just find some excuse to be alone in bed together and let nature take its course. What could possibly go wrong?
You can't get to first base if you don't take a chance and step up to the plate.
Professional baseball player Harmon "Hawk" Kiel was a rookie sensation with dazzling talent and an arrogant attitude to match. But he's hit his sophomore slump, and his natural talent seems to have deserted him, along with the confidence of his team and the media's approval. During the All-Star Break, he hits rock bottom, gets careless, and sensational pictures of him at gay clubs go viral. All at once he's outed—and out of a job.
When he's dealt to the Loggerheads, a worse-than-terrible expansion team in Charleston, South Carolina, he can't imagine he'll get a warm reception—nor does he particularly want one. But it's the only chance at redemption he has.
There he meets Caleb Jackson, a former player who's part of the Loggerheads organization, someone who tries to be the friend Harmon so desperately needs. But Caleb has a secret too, one more gut-wrenching than anything Harmon can imagine. Together they try to put the past behind them, rediscover their love of the game, and maybe even find the love of their lives.
The Rainbow League | Book Three
The Rainbow League: Book Three
Nate and Carlos have been the best of friends since their childhood playing baseball together in the Bronx. For the past few years, Nate's been in love with Carlos, though he's never acted on it and Carlos has never given any indication that he returns Nate's feelings. Nate has finally given up, determined to move on and find someone else, especially now that Carlos has shacked up with his boyfriend, Aiden.
Carlos doesn't understand why Nate has suddenly gotten weird, acting cold and distant at team practice for the Rainbow League. But if that's how things are going to be, Carlos is done trying to figure Nate out. But then Aiden reveals he has a violent side, and Carlos needs his best friend's support. On top of that, he starts to realize his feelings for Nate might not be limited to friendship. But in the aftermath of his relationship with Aiden, and with Nate having problems of his own, the timing is all wrong to make a real relationship work. As emotions run high, both have a hard time figuring out what is real and what is just convenient.
Fiscal analyst Mike Carlson is good with spreadsheets and baseball stats. He doesn't believe in fate, true love, or fantasy. But then a fertility goddess whisks him away to another world. A promise has been broken, and if Mike is ever to return to California—and his comfortable if lonely life—he must complete a pilgrimage to the shrines of a death goddess.
A humiliating event convinces Mike to hire a guard to accompany him, and hunky Goran is handy enough with a sword, if a little too liberal with his ale. A man with no home and no family, Goran is deeper than he first appears. As Mike learns more about Goran, his disbelief wavers and his goals become less clear. Contending with feuding gods, the challenges of the journey, and his growing attraction to Goran, Mike faces a puzzle far harder to solve than simple rows of numbers.
Sequel to Dumb Jock
Dumb Jock: Book Two
Jeff Irwin and Brett Willson raised a fine son, Adam, in their unconventional, judgment-free family. But being the son of two dads has its challenges. Although Adam loves them, he's determined to prove he's not gay, like they are. To this end he's become the star pitcher of his high school baseball team, a true jock.
Then Adam is suspended after he gets into a fight at school, and his dads find out his grades are slipping. Determined to put him back on track, they hire him a tutor: a short, nerdy kid named Trevor. Despite his resistance, soon enough Adam's worst nightmare comes true when he finds himself attracted to Trevor. This gives him a choice: follow his heart or become just another dumb jock.
2nd Edition
First Edition published by CreateSpace, January 2012.
Kieran Appleby can't wait until graduation to escape his life in the Keys. His only friend is the school janitor, his father doesn't talk to him, and Kieran doesn't know how to mention he's gay. No wonder he daydreams about college anywhere but Florida.
High school baseball star Drew Anderson has only one wish in life: to be able to care for those he loves. With an absent father, an agoraphobic mother, and a closet he's not ready to come out of, he can barely stand under the pressure. No one knows how alone he feels.
When Drew finally notices Kieran's long-time crush, it jumpstarts a relationship that introduces them to sex, intimacy, and love. Neither has ever been this happy. But lasting happiness is evasive, and Kieran's desperation to get out of Florida and Drew's desire to stay and care for his family cannot be reconciled.
After twenty years with Nathan, pro baseball player Bobby Lane doesn't know how to be single. His husband's death hits him hard. Bobby thinks his life is over—so the cryptic postcards from his dead husband come as something of a surprise.
The postcards lead Bobby on a quest into the heart of Texas and to the doorstep of Odis Vorleik, a sculptor who hasn't stepped foot inside his studio in nearly a year. But as Odis and Bobby grow closer, it becomes clear that Bobby didn't know Nathan as well as he thought—and that Nathan foresaw some of Bobby's future.
After a trip back home to sort out legal business, Bobby returns to Texas only to be confronted by Tuck Krickson, a local sheriff. Apparently Bobby isn't the only one carrying a torch for Odis, and Odis isn't the only one who makes Bobby feel alive again. This can't be what Nathan intended….
Shifter Hardball | Book Two
Shifter Hardball: Book Two
Polar bear shifter Graham Tundra can't believe his bad luck. Not only is he traded to another baseball team midseason, but he's also teamed up with Trigger Mallow: widely considered the best player in the game—but with the worst attitude.
Trigger is on the fence about Graham. As a grizzly bear shifter, he's relieved to have another ursine on the team, even if they are different species. The problem is Trigger is in the middle of his natural mating season, and Graham looks too damn good to pass up.
What begins as friends with benefits shows potential to grow into a deeper connection. If only they can put aside their differences, learn to trust, listen to their feelings, and realize it's more than just a bear thing.
A Harmony Ink Press Title
High school junior Wesley Harris is a stereotypical shy, soft-spoken nerd. He is obsessed with crafts and art and doesn't even need to come out of the closet to become the target of antigay bullying. Though he has the support of close friends and liberal-minded mother, he finds it hard to believe in himself.
Brad Johnson, Wesley's new neighbor, is Wesley's age—and his complete opposite. A popular jock and hero of the school's baseball team, Brad has an outgoing personality and a reputation as a ladies' man. When he and Wesley are alone, away from their classmates' scrutiny, they become friends despite their differences. But when Wesley confesses to wanting more than friendship, Brad walks away, unwilling to risk their romance being exposed.
Though devastated, Wesley resigns himself to accept that they were never meant to be. The next time he runs afoul of bullies, school counseling empowers him to report them. Encouraged by his new confidence, he decides to attend the school dance and face Brad….