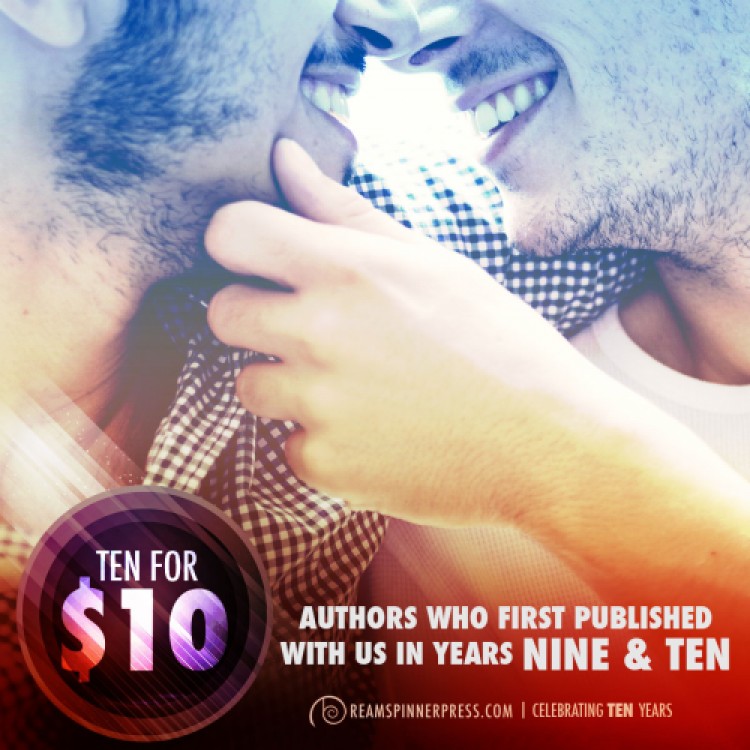 Monday May 29, 2017
10 eBooks by our newest authors are $1 each
WHERE?
Dreamspinner Press
WHEN?
May 29, 2017 - 12:00 AM Eastern To May 29, 2017 - 11:59 PM Eastern
The death of Oakley's sister has left his family broken and buried beneath their grief. In an attempt to get out from underneath their pain, they rent an isolated cottage in the Cotswolds. For Oakley, it's an exercise in futility. He doesn't see much hope for things to get back to the way they used to be, and he's bored and restless as he waits out the time until he can return to the city and university. All of that changes when he meets local boy Bobby, and the connection between them is instant. Within a few days, Oakley is ready to walk away from everything to stay with Bobby. However, Bobby has problems of his own, and they might be more than the budding romance can survive. But they might also give Oakley a new perspective on his own situation.
The Sun Dragon | Book One
A Harmony Ink Press Title
The Sun Dragon: Book One
It's been many years since the beauty of dragons riding the wind disappeared from the skies, destroyed by the corrupt King Roland and his greedy minions.
Or were they?
Instead of killing the dragons, Roland transformed them into humans so they could mingle with his people and breed him an army. Teenage Allanah saves her friend Victoria from falling victim to his scheme with newly manifested magical abilities. Another surprise comes when Allanah's first high school crush, Jason, reveals he's been sent by a clandestine council of wizards to test Allanah and Victoria's arcane talents. No one is more amazed than Allanah when, during her trial, she produces the world's first light dragon.
Allanah might be the only hope not just for her best friend but also for the survival of all the world's dragons. In addition to her monumental task, she struggles to understand her feelings between her new attraction to Cormac, the wizard general, and her emerging desire for a beautiful, forest-dwelling Igreefee girl named Dena.
2016 Daily Dose | A Walk on the Wildside
Aaron Loreto can't lay claim to being anything as sexy as a werewolf or bearman. Once in a blue moon, he turns into a raccoon. With the predatory members of the shifter community looking down at him like he does actually spend his days rummaging through the trash, he prefers to keep his condition private.
When he meets Philip MacRory, Aaron falls head over heels. Philip is hot, sweet, and open-minded about shifters. Given his past experiences, Aaron's still terrified to come out… until a night of passion with Philip shows that Aaron's not the only one keeping secrets.
A story from the Dreamspinner Press 2016 Daily Dose package "A Walk on the Wild Side".
Tate O'Connor has worked hard to realize his dream of dancing on Broadway, and it's about to pay off with a premier in his first show. He doesn't expect the distraction of sharing the stage with his celebrity crush: Broadway superstar Mike Chang. Drama ensues both onstage and off as Tate and Mike work closely and realize there could be something between them. However, there are those who don't think an up-and-coming dancer is good enough for someone with Mike's talent and fame, and rumors and misunderstandings might lead to broken hearts if Tate and Mike can't work through their confusion and insecurity.
Unbreak My Heart | Book One
Unbreak My Heart: Book One
Brett Taylor's world collapsed three years ago when he lost the love of his life. Almost as bad as the grief is the advice he's starting to get from everyone and their brother, telling him it's time to move on. They're flat-out wrong. He left his career as a musician and escaped to his ranch because he needs the peace and quiet, and he's doing just fine. He doesn't want anyone invading his memory-filled, booze-fueled solitude. 
JT Campbell's world has been defined by his parents' money, status, and his own empty relationships, until he's desperately sick of it. A quest to find something meaningful leads him to Brett's failing ranch. It's supposed to be a brief stay. JT never wanted to be anyone's savior or compete with the ghosts of lovers past. Still, he can't help wanting this gruff and grieving man. 
JT's mind knows it's a bad idea, but his heart keeps pushing him to find out what lies beneath Brett's rough and broken exterior. Brett's not going to make it easy. JT can only be patient, keep his sense of humor, and hope for the day he may be allowed far enough into Brett's world to unbreak his heart.
2nd Edition
First Edition published by Amber Quill Press, 2013.
A Scoring Chances Novel
Spartanburg Spitfires' goalie and captain, Isaac Drake, ended last season with an unexpected trip to the playoffs. He's found a home and a family with his coach and mentor, Misha Samarin, and he's looking forward to making a serious run for the Kelly Cup. But things take an interesting turn when Isaac's archnemesis, Laurent St. Savoy, is traded to the Spitfires. After Laurent's despicable behavior in the playoffs last year, Isaac wants nothing to do with him—no matter how gorgeous he is. But that changes when Isaac discovers the reason for Laurent's attitude.
Laurent St. Savoy grew up the only son of a legendary NHL goalie in a household rife with abuse. He was constantly treated like a disappointment, on and off the ice. When a desperate attempt to escape his father's tyranny sends him to the Spitfires, the last thing Laurent wants is to make friends. But there's something about Isaac Drake that he can't resist. Laurent has an opportunity to explore his sexuality for the first time, but he's cracking under end-of-the-season pressures. When facing the playoffs and a rivalry turned personal vendetta, Isaac's not sure he's enough to hold on to Laurent—or their relationship.