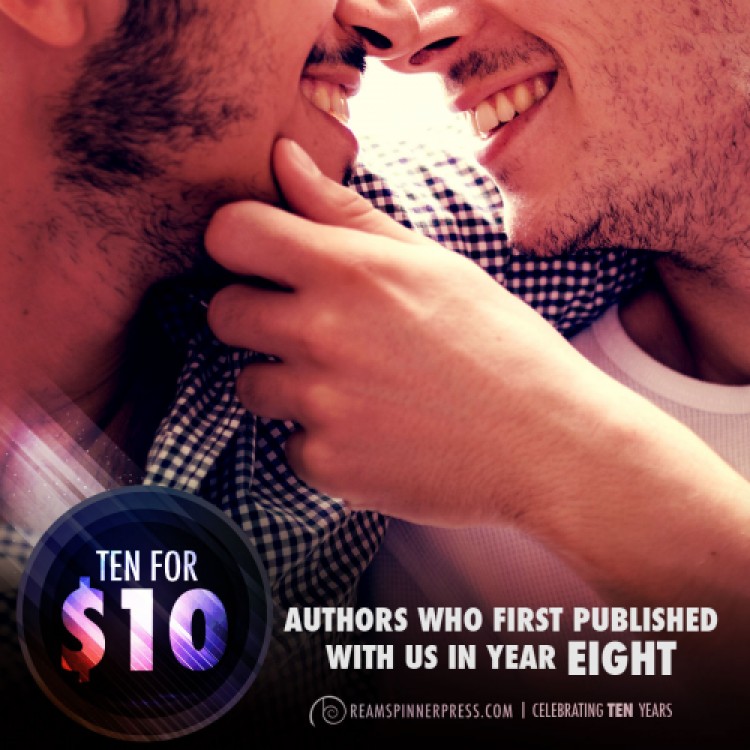 Sunday May 28, 2017
Year 8 authors share 10 eBooks for $1 each
WHEN?
May 28, 2017 - 12:00 AM Eastern To May 28, 2017 - 11:59 PM Eastern
A mysterious distress call draws the crew of courier ship Hermes to what appears to be an empty, drifting troop vessel--empty except for the blood and gore spattered corridors and a lone survivor locked in a holding cell. Drawn to the handsome, traumatized man, the crew's comm officer, Isaac Ozawa, makes Turk his personal responsibility, offering him the kindness and warmth he needs after the horror he experienced.
Isaac knows firsthand what it's like to be different and an outcast, and this cements their bond. Once a promising pilot, Isaac was left with a damaged body when his brain didn't meld with the high-tech implant needed to fly fighter ships. Turk's brain is no better. The result of a military experiment gone wrong, his natural abilities have been augmented to a dangerous degree.
When an amoral, power-hungry admiral kidnaps Isaac and uses him to convince Turk to become the cataclysmic weapon he's hungered for, it will take Turk's strength, the ingenuity of the Hermes crew, the help of the enigmatic Drak'tar, and Isaac's own stubborn will to save them.
2nd Edition
First Edition published by Silver Publishing, February 2012
Resilient Love
2015 Award Winners
A Resilient Love Story
What happens when friendship catches fire?
Former Marine and lower-leg amputee Carey Everett keeps a grueling schedule of counseling fellow war veterans and their families. The injury he received in Afghanistan forces him to rely on a reserve of strength he didn't even know he had. A much deserved vacation will let him reconnect with his best friend, who saved his life and has been there for him through devastating injury and painful recovery.
Part-time EMT and aspiring singer Jase DeSantis has been in love with Carey for years, but he's come to accept that his straight friend will never be able to offer more. Jase fills his days with band rehearsals, ambulance shifts, and willing groupies, all while trying to cope with debilitating PTSD.
A week of sun, fun, and music in San Diego changes Jase and Carey's lives forever when their relationship takes an unexpected turn. Jase has been longing for that change, but it leaves Carey reeling with confusion. As Jase fights to hold things together, Carey deals with doubts, fears, and his own preconceived notions about labels and the true nature of love.
Moments in Time | Book One
Moments in Time: Book One
Outside Collin Fitzpatrick's dorm room is a dangerous place. Beyond his door the students of his small, conservative college think he's straight, as does his Catholic family who'd disown him if they learned the truth. Inside, he's safe with his incredibly sexy roommate Tanner D'Amico. Their room makes a perfect place to hide away and fall in love. The moment they cross the line from roommates to lovers, Collin becomes caught between their heavenly passionate encounters and the hellish reality that someone might find out and destroy everything. Tanner's not used to being so confined, and wants to show the world how much he loves Collin. But Collin's not sure he's ready for the impact stepping outside will make.
The Power of Zero | Book One
You don't greet your new boss dressed like an underage rent boy. But when Jack Horwood—ace hacker and ex-MI6 operative—opens the door to Gareth Flynn, he's too busy to worry over details like that. And anyway, his potential new boss is his former commanding officer – the same guy Jack has had a crush on since he was seventeen. So he should understand, right?
When he applied for the job in Nancarrow Mining's corporate security division, Jack had hoped for peaceful days repelling cyber attacks. Maybe a bit of corporate espionage on the side. His plans didn't include rescuing abused children, hunting pimps, or dealing with his overly protective and hot-as-hell boss, Gareth Flynn.
Walking away is not an option. Jack never takes the easy way out. More than that, meeting Gareth raises old ghosts that Jack needs to put to rest. Rescuing kids. Taking risks. Saving the day. Jack can do all that—but deciding what to do about his attraction to Gareth isn't the sort of cloak-and-dagger game Jack plays well. Yet Gareth, strong and smart and always on hand when needed, might be Jack's salvation.
After Nathan Taylor's wife fell into a coma, he fought for years to get custody of their son, Christopher, and finally succeeded. Although Nathan loves his wife, Letty, he has never been in love with her—theirs was a marriage of convenience, and they both knew it. Still, when he meets Raven Black Bear, the physical therapist who cares for Letty, his attraction to the man leads to a crisis of conscience.
Christopher's life in the custody of his selfish grandparents has been difficult, and Raven befriended the boy during Christopher's court-ordered visits with Letty. On the day Nathan regains custody, he brings Christopher to Letty's side to share the news while Raven is with her. Raven soon falls for Nathan, but he struggles with the moral implications of a relationship with his patient's husband. Both men worry about how a romance between them will affect Christopher, and they face a difficult choice. They can have the future their hearts desire, but they must decide if it's the best future for everyone.
Royal Navy Series: Book One
An officer, a gentleman... and a sodomite. The first two earn him honor and respect, the third may cost him his life. David Archer realizes how hopeless his attraction to his fellow midshipman is from the moment a newly-arrived William Marshall challenges a sexually abusive shipmate to a duel – and shoots him dead.
To Marshall, the Navy is his one chance to move beyond his humble beginnings. While others spend shore leave carousing, he curls up with a navigation text. When they and their captain are abducted, Archer and Marshall become pawns in a renegade's sadistic game. To protect the man he loves, David Archer chooses to face his own demons of past abuse returned in a different form. When Marshall learns of Archer's sacrifice, he discovers what he feels for Davy runs stronger and deeper than friendship. He's in love, for the first time in his life, and he wants to know all about this new emotion.
But first they must escape. Only then will they find out if they can preserve their love without losing their lives.
3rd Edition
1st Edition (Print and eBook) published by Linden Bay Romance, LLC, 2006 2nd Edition (Print) published by Cheyenne Publishing, 2009 2nd Edition (eBook) published by Bristlecone Pine Press, 2009
When wildlife and landscape photographer Daniel Hopson gets a reading from clairvoyant Rowan Foster at a local craft fair, he quickly realizes it's a con. But he sees the charm behind the chancer's façade, and so rather than expose him, he starts to date him—only to discover that some of Rowan's other cons are far more serious.
The so-called psychic owes ten thousand pounds to two men after deceitfully claiming to be able to find the body of their murdered mother. Daniel must help Rowan recover the genuine gift he possessed in childhood and contact the spirits before the men catch up to them—and the key to doing so might be Daniel's telepathic connection with his dog Sasha.
A Foothills Pride Story
When his lover Jason's drug addiction spiraled out of control, TV celebrity chef and cookbook author Adam de Leon walked away from him. Adam also abandoned his renowned restaurant in San Francisco to start a small bistro in the Sierra Foothills.
Five years later Adam is battling the conservative leaders of Stone Acres, California, to open a new restaurant in historic Old Town when Jason turns up on his doorstep—a recovered Jason, now going by the name David and claiming he's overcome his addictions. What's more, he begs Adam to take him back and says he's ready for their happily ever after.
Adam has enough on his plate with problems plaguing the opening of his restaurant. And now he's having a hard time deciding which to follow—his head or his heart.