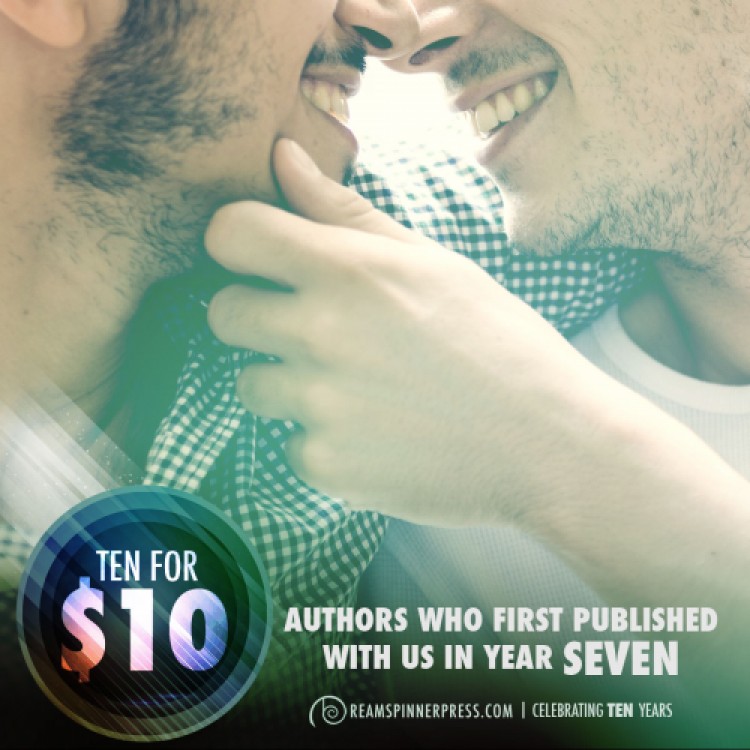 Saturday May 27, 2017
10th Anniversary Celebration continues with 10 eBooks by Year 7 authors for $1 each.
WHEN?
May 27, 2017 - 12:00 AM Eastern To May 27, 2017 - 11:59 PM Eastern
Liam Grady is the owner of the Feathered Quill, a quirky little bookstore in Asheville, and—though he doesn't realize it yet—a dream walker. His last relationship failed almost a year ago, and he's not had the interest or nerve to pursue anyone he's met since.
Cameron Danu is a tattoo artist from rural Georgia. Cameron is left without a job after his boss, José, is forced to close the shop after a heart attack. When Cameron learns José has set up an interview for him at a small tattoo parlor in Asheville, he hopes for a fresh start in a new town.
Fate brings Cameron and Liam together, and they realize they've met before—in their dreams. A chance encounter and a winged tattoo might lead them to their destiny—if fear doesn't turn their dreams into a nightmare.
When drama threatens to ruin a romance on a reality show, only a true friend can save a groomzilla's wedding.
Daniel Green, an event planner with a neat, quiet, orderly life, reluctantly agrees to plan the wedding of his childhood friend Ander, an outrageous fashion designer soon to marry a wealthy entertainment lawyer named Rafe. To complicate matters, the happy couple have agreed to have their wedding made into a reality show—something that practical Daniel isn't sold on.
Daniel is neither a romantic nor a wedding planner, but he's the only person in the world who can manage Ander. Distracting him from his mission is Owen Grainger, a too-handsome-to-be-true producer whose quiet charm pulls Daniel into his orbit.
When the stress of the show triggers bad behavior from Ander, co-producer Victor Pierce decides it's the key to a ratings bonanza, and he begins to undermine Ander and Rafe's relationship to create more drama. Daniel is determined to protect his friend and his own reputation, but when he finds himself falling hard for Owen, there's much more at stake than ratings.
Twelve-year-old Autumn's world is shattered when her beloved Great-Pop, Tommy Johnson, suffers a stroke that leaves him comatose. With everyone around her resigning themselves to the inevitable, Autumn is the only one not willing to give up. She and Great-Pop have more secret stories to share with each other, after all. More stories about Roy McMillan—the great love of Tommy's life whom he lost fifty years ago.
Autumn struggles to keep Great-Pop on this side of death's door. But how can she compete with the beautiful and mysterious Valley—a place of surreal magic where the sun never fully sets? Especially when there's someone familiar in the Valley who will do everything he can to keep Great-Pop from returning to her.
A Forever Home | Book One
A Forever Home: Book One
Werewolves are real. Marius enjoys the irony that everyone calls him a dog whisperer, not just because he's a werewolf, but for his work at the local animal shelter. He has a unique talent for pairing families with their perfect pets upon first meeting them. But he's still looking for acceptance and a forever family of his own. Then Jack comes into the rescue looking for a big, mean dog. To prevent Jack from making the wrong choice, Marius convinces him to adopt a needy spaniel mix instead. But when Marius learns Jack is tormented by horrible memories while at his apartment, he opens his home to the sweet, scared man. As their relationship grows, Jack feels comfortable telling Marius about the horrors he suffered. Marius hopes his steady presence, protection, and love can help Jack reclaim the pieces of himself broken on that terrible night.
When Aaron refused to discuss getting married, he didn't expect Chris to take it so poorly. They've been together twelve years. Aaron thought they'd at least talk about his very valid reasons. Gay marriage isn't even legal in their state, and what do they need a piece of paper for, anyway? When Chris leaves after the fight, Aaron tracks Chris down just in time to see him about to lock lips with a stranger in a club, which drives home the situation's urgency. Aaron must make things right with Chris. He's willing to do anything, but their friends' advice only goes so far, and when he learns what Chris has been hiding, Aaron has to decide if a life with Chris is even an option.
Will & Patrick | Book One
Will & Patrick: Book One
Patrick Mason travels to Bristol to spend the summer with his brother, Ben. He's cat sitting for the first two weeks while Ben goes on holiday. But Ben neglected to tell him he wouldn't be doing it alone. Will Adams—Ben's mate and Patrick's long-time crush—is staying in Ben's guest room while he waits to move into his new house after a breakup.
Against his better judgment, Patrick convinces Will that a little no-strings fun is just what they need. Patrick doesn't want to get involved with a guy on the rebound, and Will isn't interested in starting something serious with a student. But Patrick's never been good at separating sex from feelings, and this time is no exception. As their weeks together draw to a close, they need to decide if they have something worth pursuing or if it's really just a casual thing.