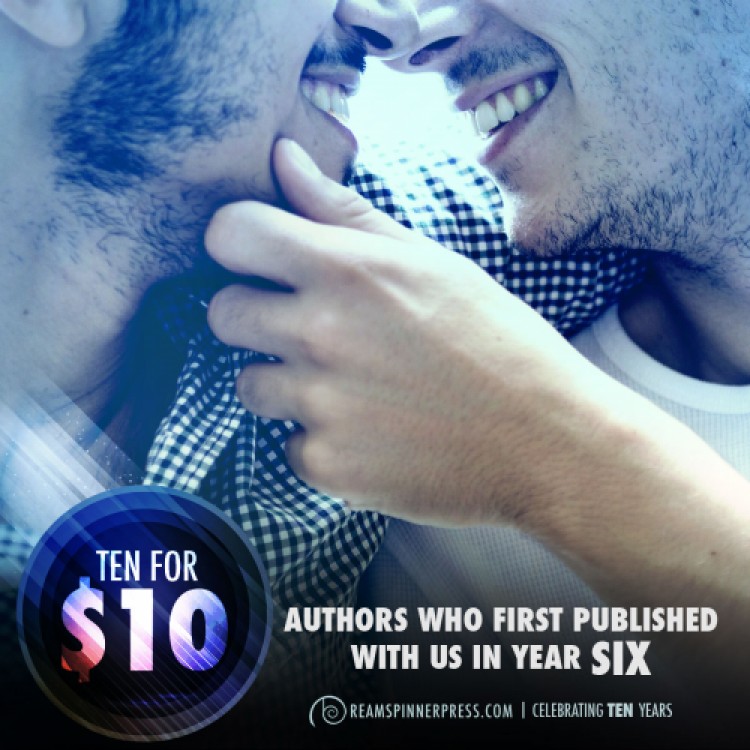 Friday May 26, 2017
Year 6 authors are featured in this batch of $1 eBooks.
WHEN?
May 26, 2017 - 12:00 AM Eastern To May 26, 2017 - 11:59 PM Eastern
Zero Hour: Book One
For paramedic Adam Carson, his world is lights and sirens and saving lives. Pressures at work keep him firmly in the closet, and life is too busy to contend with the complications that come with dating and relationships. When a familiar face from his past turns up where he least expects it, Adam starts to question whether or not there is room in his life for those complications.
The last person forensic pathologist Sam McKenna expects to see at pub night is Adam, the guy who made his life hell in high school. The attraction is instant, but Adam isn't gay and Sam has no interest in pursuing him. Still, the leftover animosity from their teenage years isn't enough to extinguish the lust growing between them. After both are called to the scene of a horrific murder, Adam admits he's not as straight as he led Sam to believe and they seek comfort and distraction in each other's arms. One night becomes many as the murder investigation intensifies, but when Adam is faced with losing Sam, he is forced to make a choice: to break his silence, or to give up everything for the job he loves.
Forbes Mates: Book One
Finley Cooper is tired of waiting for his destined mate to be ready to claim him. In deference to human laws, he's already agreed to wait until he's eighteen. But now his birthday has come and gone—and his mate has a new set of excuses. Finley doesn't understand it any more than his wolf does, and he's beginning to wonder if fate made a mistake.
Tanner Pearce wants nothing more than to claim his mate, but he worries that Finley is too young. Tanner will never forget what happened when his best friend mated at Finley's age, only to have that mate end up feeling trapped and breaking their bond. While rare, it can happen, and the fallout Tanner witnessed as his best friend tried to deal with the break has haunted him for years.
When Finley finally has enough, he threatens to find someone who will claim him if Tanner doesn't, and Tanner realizes he needs to come to terms with his fears or risk losing his mate forever.
Fur, Fangs, and Felines | Book One
2015 Award Winners
A snowstorm in the South—on New Year's Eve—is a perfect recipe for a catastrophe. After two soul-crushing bad breaks, Kirk's waiting for disaster number three to strike when, naturally, two stray cats arrive on his doorstep during the storm and decide to make themselves at home. Tenderhearted Kirk lets them stay even though there's something decidedly odd about his overly friendly felines.
Out of the punishing weather and full of tuna, Dolf and Tal are happy to be snug in Kirk's house. But then their human goes outside for firewood and suffers a nasty fall that leaves him unconscious. Now the two cats have no choice but to reveal themselves.
Kirk wakes up to find the two kitties are actually Dolf and Tal. They're cat shifters—and his destined mates. Being part of a feline threesome is enough for Kirk to grapple with, but soon he learns they come from a clowder that doesn't believe humans and shifters should mix. Kirk knew those two cats would be trouble. Little does he know the real trouble lies ahead.
2014 Award Winners
THIRDS | Book One
THIRDS: Book One
When homicide detective Dexter J. Daley's testimony helps send his partner away for murder, the consequences—and the media frenzy—aren't far behind. He soon finds himself sans boyfriend, sans friends, and, after an unpleasant encounter in a parking garage after the trial, he's lucky he doesn't find himself sans teeth. Dex fears he'll get transferred from the Human Police Force's Sixth Precinct, or worse, get dismissed. Instead, his adoptive father—a sergeant at the Therian-Human Intelligence Recon Defense Squadron otherwise known as the THIRDS—pulls a few strings, and Dex gets recruited as a Defense Agent.
Dex is determined to get his life back on track and eager to get started in his new job. But his first meeting with Team Leader Sloane Brodie, who also happens to be his new jaguar Therian partner, turns disastrous. When the team is called to investigate the murders of three HumaniTherian activists, it soon becomes clear to Dex that getting his partner and the rest of the tightknit team to accept him will be a lot harder than catching the killer—and every bit as dangerous.
Sex in Seattle | Book Three
2014 Award Winners
Everyone admires Michael Lamont for being a nurse, but his part-time work as a gay sex surrogate not only raises eyebrows, it's cost him relationships. Michael is small, beautiful, and dedicated to working with people who need him. But what he really wants is a love of his own. He spends most of his time reading science fiction, especially books written by his favorite author and long-time crush, the mysteriously reclusive J.C. Guise.
James Gallway's life is slowly but inexorably sliding downhill. He wrote a best-selling science fiction novel at the tender age of eighteen, while bedridden with complications of polio. But by twenty-eight, he's lost his inspiration and his will to live. His sales from his J.C. Guise books have been in decline for years. Wheelchair bound, James has isolated himself, convinced he is unlovable. When he is forced to do a book signing and meets Michael Lamont, he can't believe a guy who looks like Michael could be interested in a man like him.
Michael and James are made for each other. But they must let go of stubbornness to see that life finds a way and love has no limitations.