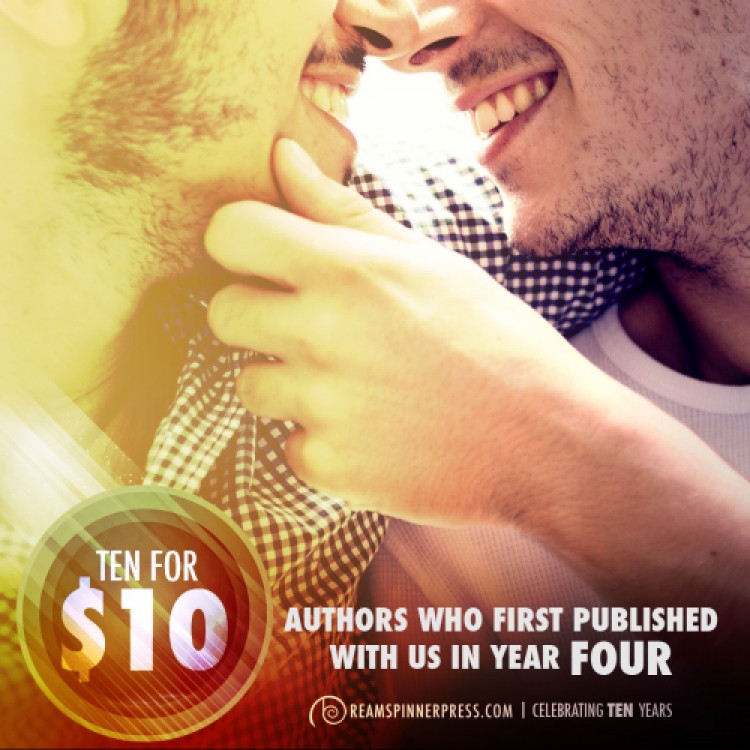 Wednesday May 24, 2017
Celebrate Year 4 authors with 10 eBooks for $1 each
WHEN?
May 24, 2017 - 12:00 AM Eastern To May 24, 2017 - 11:59 PM Eastern
Writing crime novels catapulted Memphis native Silas Cooper to fame and fortune, but when his words backfire and he becomes trapped in what could be one of his books, he needs a hero of his own.
Silas's publicist insists he hire a personal assistant, and Silas chooses Scott Kramer. But before Scott starts, he already has a round of steamy phone sex to hold over Silas's head, and his interest in his boss isn't decreasing.
Benjamin Logan joined the Army to see the world, and while deployed he read every one of Silas's books. With his military career over, Ben is back in Memphis working for the police department—and attempting a deeply closeted relationship with fellow cop Morgan Brown.
Over coffee, Silas and Ben become friends who support each other as relationships fall apart, and the attraction between them slowly emerges. When a dangerous stalker threatens Silas, it's up to Ben to stop him.
If Ben fails, Silas might not live to tell this story… and Ben might not be able to live with himself.
Sequel to Wayward Son
Sons: Book Three
Who wouldn't want a nice cup of tall, dark, and gorgeous? Shaun Rogers does. He's working at the front desk of a clothing-optional gay resort when Conrad "Con" Brooks walks in. The sweet, funny, and smart IT guy is there to install a new network and security system, and sparks fly between the two men from the start. Trouble is, Shaun's hiding his sexuality from his grandmother, the only family he has left, and that makes him reluctant to take the leap with Con.
Then a man claiming to be Shaun's absent father shows up out of nowhere, throwing Shaun completely off balance. His life spiraling toward chaos, Shaun soon discovers that his "father" is hiding secrets of his own. When things come to a head between them, it's Con who comes to Shaun's rescue—but the incident could force Shaun into a decision he's not sure he's ready to make.
Vampire Alexei Novik may have the teeth and the coffin, but he's given up the lifestyle for an old fixer-upper in the Blue Ridge Mountains. Weary of his past, Alex plans to keep to himself, but it seems his sexy, new neighbor, Tate, can't take the hint—a good thing, since it turns out he's handy for all kinds of things around the house. Tate even gets along with Alex's werewolf friends, though one of them pointedly reminds Alex that their friendship is a bad idea.
If a platonic relationship is a bad idea, the growing attraction between Tate and Alex is a disaster waiting to happen. Loving Tate will draw him into Alex's dangerous world, and Alex is torn between having the relationship he's always craved and keeping Tate safe. Tate won't take no for an answer, however, and seems to handle everything Alex can throw at him without blinking. Just when he thinks things might turn out all right after all, Alex's past catches up with him—forcing him to make a terrible choice.
In the tradition of novel noir, nothing is ever quite as it seems.
Novelist and war hero Tony Leonard sees private investigator Edwin Malory being mugged outside a seaman's mission in downtown Los Angeles, so he takes him home and gives him clean clothes and access to a hot shower. It doesn't take him long to discover Malory was hired by wealthy industrialist Linton Vanderbilt Stirling, the father of Tony's estranged wife, Janet. The reason for this is simple: Tony's father-in-law suspects him of drinking away his daughter's personal fortune.
On a whim, Tony drops in on Janet one night and finds her naked, dead, and tied up, her skull beaten in. Horrified, Tony flees the scene, knowing that as her husband, he is the number one suspect in the killing. He sees only one way out. He needs to fake his own death.
And who better to send his "suicide note" to than Edwin Malory.
Circles | Book Three
2015 Award Winners
Circles: Book Three
Through ten wonderful years Griff Diamond and Clint Bishop weathered good times and bad together. Lately they haven't spent as much time together as they'd like, and their physical relationship is suffering. Then Clint loses his job at the steel mill. Instead of worrying, he sees it as an opportunity to lean on his steady partner, start his writing career, and rekindle the passion they've lost.
But a friendly relationship with another author turns to obsession, putting Clint's life in danger. Taken against his will to the Jewel Cave system in South Dakota, Clint must rely on the skills he's learned from Griff to survive.
Fearing the worst, Griff tracks Clint across the country. As a US Marshal, Griff's always been the man who keeps everyone safe, but he doesn't know how he and Clint will survive this.
The Garden Series
Devon Wilcox, the privileged fifth son of a viscount, has everything a man could want ... except being gay in a time when such deviant behavior could land him in prison. He tries to console himself with the denizens of society's underbelly, but frequently ends up the victim of those who'd rather take advantage of his desperation. Fortunately, his best friend and secret object of infatuation, Sir Wallace Church, comes to his rescue. Wallace tempts him with the promise of high-class entertainment at a mysterious boy brothel called "The Garden." Situated in the heart of mid-Victorian London, The Garden offers an array of choice morsels, beautiful young men named after flowers. There, Wilcox finds not only the perfect bed partner for the evening, but the chance to gain his most ardent heart's desire.
A Serpentine Series Book
Reeling from the news that his parents are divorcing, Pete Morgan starts his junior year at college cynical about love and commitment. Although his new openness to one-night stands does wonders for his sex life, fighting his romantic nature proves harder than he'd anticipated. He soon finds himself pining for a glamorous senior, Aidan, who doesn't mind taking Pete to bed but shows no interest in commitment—at least not with Pete. And Pete's attempt at a "friends-with-benefits" relationship with sophomore Jed leaves Pete feeling empty.
One bright spot in Pete's year is Matthew, an easygoing graduate student who assists Pete in making his first film. Matthew has some baggage too, and has sworn off relationships and sex altogether, so Pete feels safe to enjoy their friendship. But he falls for Matthew anyway, not able to fight his growing conviction that Matthew is the perfect guy for him. Even if Pete can accept that he made a mistake when he turned his back on relationships, that doesn't mean Matthew will feel the same. With a few life lessons under his belt, Pete's ready to take a chance on love. As he finds the courage to bare his heart to Matthew, he can only hope that Matthew will take a chance with him.
Off Stage: Set One
Damian Learner and his grunge band, Firefly, are on a meteoric rise to success. If they get the right break, fame awaits. Seeking more professional management, Damian independently strikes a bargain with the best agent in the business, Stanley Krane. Unable to afford the penalty for breaking old contracts, Damian agrees when Stan's best friend, country and Western megastar Vance Ashcroft, offers to buy him out of his old contract.
Overwhelmed by a crippling loan, secretive guilt, Stanley's expectations, and a volatile relationship with Lenny, Firefly's lead guitarist, Damian disintegrates. Bad habits of too much sex, booze, and drugs create a rift in the band. Finally Vance, with his understanding of Dominant/submissive behavior, sees that submissives Damian and Lenny are falling into chaos, clinging to each other to try to avoid the inevitable crash.
When the pressure to perform becomes too much and the unthinkable happens, Damian and Lenny have to decide: accept that they need something they can't get from each other, or burn out and take Firefly with them. Vance is ready to claim Lenny, but even Stan's hesitant agreement to give Damian the direction he needs might not be enough for Damian—or the band—if he loses Lenny.
For six years, Rex Payton has focused on two things: keeping his late father's small-town Kentucky bar afloat and raising his nephew, Tyler. After the tragic loss of his parents and sister, Rex has no interest in romance. He's respected in his community and regarded as one of Carlisle's most eligible bachelors, but he's accepted that his life isn't conducive to a romantic relationship, especially as a closeted gay man.
Enter Josh Billings, a veterinary student who's serving an internship in town. Josh's deepest passion is helping animals. Romance is the furthest thing from his mind… until the night he meets taciturn, handsome Rex Payton. Chance and an after-hours dance conspire to forge an intimate connection neither man looked for—one neither man can ignore after the dance leads to a kiss.
Suddenly romance isn't so insignificant, but it's also not without complications. For this relationship to work, Josh has to decide if he can cope with dating a single dad, Rex has to open his heart, and Ty has to learn to share his dad's affection.
A Duncan Andrews Thriller
Private detective Duncan Andrews's best friend Gina is a witch. His dog is a zombie. And his dead boyfriend, Robbie, is a ghost. So it's hardly any wonder that he uses his connection to the supernatural to help him solve cases. Good thing, too, because Duncan has his hands full. Janice Sanderson, the richest woman in Indianapolis, wants him to find her stripper daughter, Brenda, and another client is having some trouble with a specter haunting her family home. On top of that, Duncan has decided to add dating into the mix, though after Robbie's death, he's not sure he's ready.
When Duncan meets Nick while tracking down a lead on Brenda's boyfriend, he shelves his doubts and agrees to a date. Robbie doesn't make it easy on him, showing up to spoil his chances, but that is the least of Duncan's worries—because one of his clients' husbands is missing and there's a serial killer on the loose—one Duncan fears isn't human.