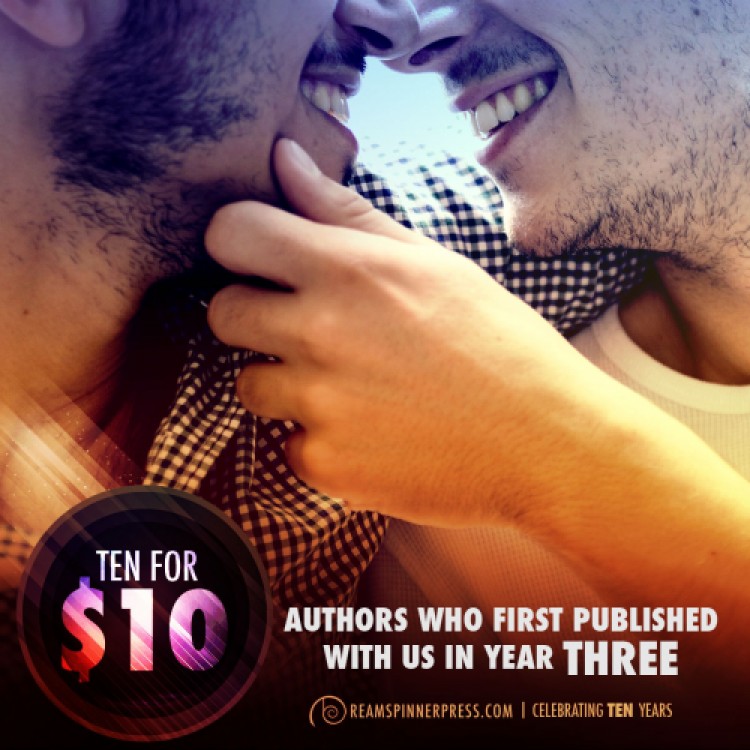 Tuesday May 23, 2017
10 eBooks for $1 each by authors who first published in our third year!
WHEN?
May 23, 2017 - 12:00 AM Eastern To May 23, 2017 - 11:59 PM Eastern
When layoffs hit Jim LaRue's company, his first concern isn't for his own job, it's for his friend and coworker, Tommy Graves. Tommy's going through a bitter divorce, and he's closing on a new home. Losing his job would mean losing the house—and the fresh start he desperately needs. Jim can't let that happen to the man he's secretly in love with, so he proposes a swap: his job for Tommy's.
Now out of work, Jim reluctantly agrees to help Tommy remodel. He needs the income, but he can't stand being a charity case—especially not when things between them start heading in a direction he hardly dared hope for. The strain drives a wedge between them, and a confrontation might spell the end of their relationship.
2nd Edition
First Edition published by Amber Quill Press/Amber Allure, 2010.
Christopher Borgasian has spent the last seven months painstakingly breaking up with a lover he's adored for three years: heroin. Now he's trying to make it on his own—without the drugs, without the family that rejected him for being gay, and, seemingly, without a friend in the world.
The night before Chris leaves a sober-living facility to pursue his uncertain future, a stranger named Denny shows up in his room. From then on, Denny returns whenever Chris needs him the most, always vanishing as mysteriously as he appears. Chris desperately needs emotional and physical intimacy, but who is Denny, really? And can Chris believe in him when it also means believing in unconditional love?
Sylvan Collection
Return to small-town Sylvan in Jan Irving's bestselling series—reimagined and re-edited with an all-new bonus novella.
The small Western town of Sylvan is a place for new beginnings for those who won't settle for anything less than true love. These sweet tales of slow-simmering romance and the old-fashioned values of commitment and pulling together when times get tough prove that sometimes the best matches are also the most unexpected.
With the help of a storm, a washed-up Olympic swimmer and a carpenter cracking under the strain of caring for his Alzheimer's-affected father learn that opposites sometimes really do attract. 
A likable cowboy called Happy Nate is determined to help a mute boy speak again—and to help his father move beyond the repression of the Mennonite community to find the love he deserves.
When a hard-partying cowboy is suddenly saddled with a surprise baby, he's at his wit's end. Luckily the local doctor is available to help, and if the two men can find the courage to accept themselves and step into a new life, they might just make a real family. They'll need to lend each other strength when an unspeakable tragedy strikes—and when it's time to pick up the pieces.
When he finds himself captivated by a movie-star handsome stranger he meets in a bar, lawyer Ford Reilly watches a simple one-night stand develop into a taste of what living honestly might bring him.
Out and proud Gus Hansen has built a small architectural firm from nothing, but could lose it all as he tries to break a contract he signed before knowing about the project's antigay ties.
After Ford discovers he spent a passionate night with the man on the other side of the dispute he's handling, he finds himself in more than one quandary. He can either maintain the status quo, enforcing the contract to the letter, or he can defy his overbearing father and break free of the closeted life he's built for himself in order to be with Gus.
Gus has his own choices to make. He knows the sting of loving a man who hides himself, but the longer he lingers in Ford's presence, the more difficult it becomes to deny their attraction.
As a principal dancer for a contemporary New York ballet company, Sean has the privilege of working with student interns. The company's newest intern, Lupe, is a talented dancer from Purchase College—but the man who picks her up from class really piques Sean's interest.
Jaime is Lupe's cousin, a photography and graphic design student at Purchase. Not long after Sean and Jaime start dating, their casual hookups evolve into something special, something neither wants to lose—no matter how a commitment will complicate their lives.
Lupe figures out the nature of their relationship and outs Jaime to his extremely religious Arizona family. Sean decides to support Jaime all the way, even though Jaime might choose pleasing his family over a life of love and freedom with Sean.
Having left most of his arm and his self-confidence behind in the Afghanistan desert, young veteran Aaron Santori has enough on his plate learning to use his prosthetic arm. Attending graduate school at the University of Pittsburgh makes life both interesting and challenging. Mentally, he's ill prepared for meeting Rhys Edwards, a young-adult novelist from Wales and everything Aaron could want in a man. Between the scars from the explosion and his PTSD, he's reluctant to date. Ready or not, though, Aaron finds himself jumping into the deep end of the relationship waters.
What Aaron couldn't possibly know is that Rhys isn't human at all. As a prince of the Tylwyth Teg, Rhys is fae, with a list of enemies he's accumulated over the past few centuries—among them a former lover, Morcant, who is back to make Rhys's life miserable. An unwitting pawn in their Machiavellian fae politics, Aaron only knows he's falling in love, never suspecting love might be his death sentence.
a Winter Ball novel
Mason Hayes's love life has a long history of losers who don't see that Mason's heart is as deep and tender as his mouth is awkward. He wants kindness, he wants love—and he wants someone who thinks sex is as fantastic as he does. When Terry Jefferson first asks him out, Mason thinks it's a fluke: Mason is too old, too boring, and too blurty to interest someone as young and hot as his friend's soccer teammate.
The truth is much more painful: Mason and Terry are perfectly compatible, and they totally get each other. But Terry is still living with his toxic, suffocating parent and Mason doesn't want to be a sugar daddy. Watching Terry struggle to find himself is a long lesson in patience, but Mason needs to trust that the end result will be worth it, because finally, he's found a man worth sharing his heart with.